To expedite entry into Segra Field, we strongly encourage fans not to bring bags to the stadium. Designated lanes will be set up for fans with bags and fans without bags.  If you must bring a bag to the stadium, please see the important information below.
No bags larger than 14" by 14" by 6" will be allowed into Segra Field.
No backpacks will be allowed ("cinch bags" that fit the size restriction will be allowed).
Other bag types that will NOT be allowed at Segra Field include: coolers, luggage, large purses, or other similar bags that exceed the size restriction.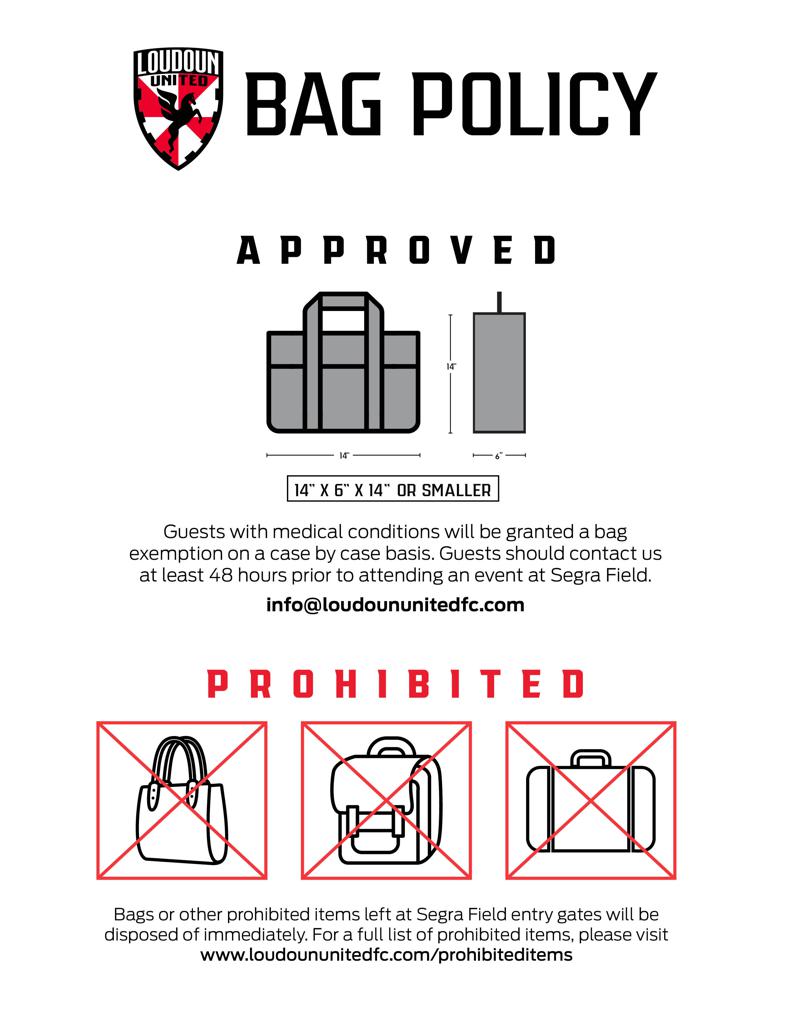 Bag Policy FAQ
Are diaper bags permitted?
Diapers and wipes can be carried in any bag that meets our bag policy. However, large diaper bags are not permitted.
Are seat cushions permitted?
Yes—only one-piece, foam seat cushions with no covers are permitted as long as they do not exceed 16" wide and do not have armrests or a metal back.
Are blankets permitted?
Yes, blankets will be permitted. Fans will be able to bring blankets by tossing them over a shoulder or arm so that they can be easily screened.
What happens if my bag is not permitted?
Fans carrying bags that do not meet the bag policy will be asked to return the bag to their vehicle. If you do not have a vehicle on site you will be turned away from the stadium unless a friendly fan allows you to store your bag in their vehicle for the game.
If I have certain items that I need to bring into the stadium for medical reasons and they do not fit into a size compliant bag (14″x 6″x 14″), what do I do?
There will be a separate entrance to allow screenings of these bags and medically necessary items. Please contact guest services for more information in advance of coming to a match at info@loudoununitedfc.com
What can I do to enter the stadium quickly?
To speed the security screening process, make sure that any bags being carried in meet Segra Field's bag policy guidelines.
There will be dedicated no-bag and bag lanes at each gate to help streamline the process.
Remove any jackets or other large, bulky items from your bag and carry these in hand. When the contents of your bag are clearly visible, staff can screen bags without requiring any contents to be removed. If blankets or other items conceal the contents of a bag, staff must request that they be removed in order for screening to take place, delaying the process.
When approaching the metal detector wands, remove any keys, coins or other metal objects from your pockets and hold these in hand.
If at all possible, do not bring a bag with you. Guests without bags will experience a much quicker entry into the stadium.
In addition to the bag policy, please click here to view our prohibited and permitted items lists.
We look forward to seeing you at Segra Field!