Where is Segra Field?
Segra Field is located within Philip A Bolen Park at address: 42095 Loudoun United Drive, Leesburg, VA 20175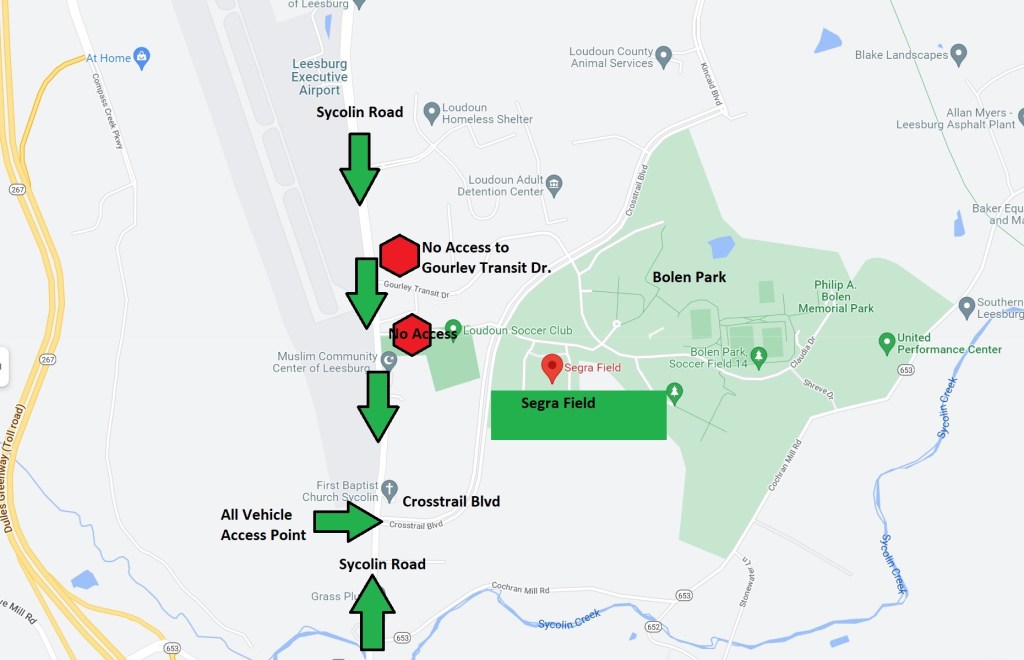 When do the gates open?
Gates will open 60 minutes prior to the scheduled kickoff. Be sure to follow the club on social media @loudoununitedfc or check the website as kickoff times may change. 
How do I access my tickets?
You can access the Loudoun United Account Manager portal here: https://am.ticketmaster.com/lufc/tickets
Once you log in using your email address and password (please click on 'forgot password' to set or reset your password), you will be able to click on each individual match.
We highly recommend that you save your tickets to your Apple Wallet or Google Play on your smart phone in advance of arriving at the gates so that you don't have to go through the process of login in and finding your tickets as you walk up to the stadium.
What is your bag policy? What are your prohibited items?
Please take a look at Segra Field Bag Policy and Prohibited Items or email us at info@loudoununitedfc.com.
Is there free Wifi?
Yes! Get connected, Segra Field now has public wifi under the domain #GOSEGRA.
How much is parking?
A parking fee of $8 will be applied upon entry via card or cash payment.

Do children get in for free?
Children two years old and younger do not require admission provided they sit on a ticketed fan's lap and do not take up a seat.  If your child requires a seat you will need to purchase a ticket regardless of age.

Will there be food at the match?
Of course! We have Fresh Connections at the stadium serving food and beverage. 

Will there be soft drinks and adult beverages?
Yes, you can expect a diverse menu of Coca-Cola products, local brews, wine and more. 

Will there be something to do for kids?
There is a dedicated fun zone for all ages located right inside the main gate! Cornhole boards, ladder ball, pug goals, and other fun lawn games will be available.

Will there be a team shop on site?
Yes! Official Loudoun United FC merchandise will be sold just inside the Segra Field entrance. 
Where do fans with premium tickets check in for their wristband that activates their all-inclusive experience?
Fans holding a premium ticket must check in at the premium check-in table located in front of the Segra Field Hospitality Suites to receive their wristband.
What is the inclement weather plan for fans at Segra Field?
In the event of inclement weather at Segra Field that causes a delay in the match, fans will be directed to seek immediate shelter.
Fans in the general seating bowl of Segra Field will be directed to return to their vehicles.
Fans in the suite area of Segra Field will be directed to head into the suite area of the stadium.
In the event of a tornado, all fans must seek immediate shelter.
We look forward to seeing you at Segra Field!