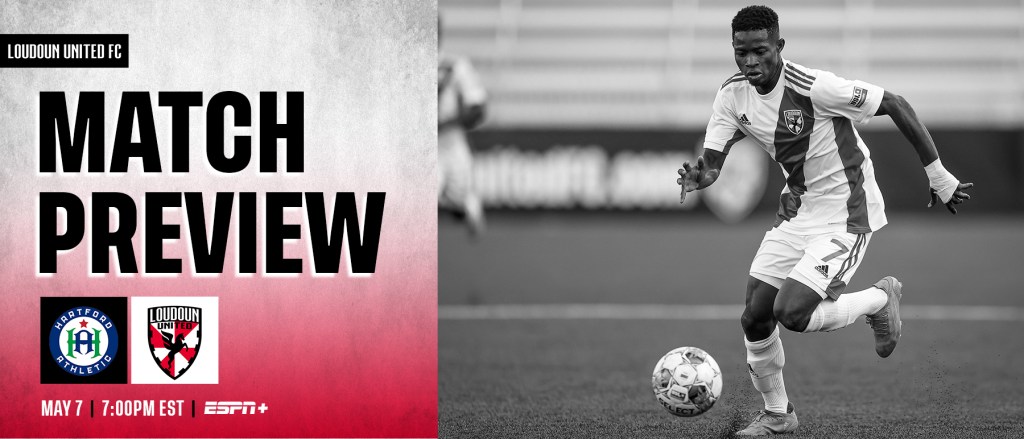 Loudoun United FC will play their ninth match of the 2022 United Soccer League (USL) Regular Season against Hartford Athletic on Saturday, May 7th at 7:00 PM EST at Trinity Health Stadium. This will be the Red-and-White's fourth away match and first of a two game road stretch. Saturday's matchup will be the eleventh matchup against the Hartford side in the USL Championship. 
Loudoun United News
Loudoun United come off a 1-3 loss against El Paso Locomotive FC on Saturday, April 30. Goalkeeper Joe Rice and midfielder Skage Simonsen recorded their first starts in their Loudoun United debut. Midfielder Sami Guediri scored his first goal for Loudoun United from the penalty spot. Loudoun United are currently 1-2-1 on the road. Azaad Liadi will be unavailable due to a red card received against El Paso Locomotive.
How can I Follow the Match?
Loudoun United will be hosting an Official Watch Party at House 6 Brewing Company – Ashburn at 7 PM EST. Saturday's match will be available live to stream on ESPN+.
Head Coach Ryan Martin on Upcoming Match:
"As Jurgen Klopp once said, "the mother and father of each victory is hard work." All we have done this week is put our head down, work, and try to get better each day. This has been the best week of training we have had in a while, and we are excited to see the intensity, fight, and soccer it produces in Hartford on Saturday."
About Hartford Athletic
Hartford Athletic is currently 0-6-1 in the 2022 USL Championship season and come off a 1-0 loss at Indy Eleven on Saturday, April 30th. Hartford currently sits in 12th place in the Eastern Conference. Hartford is currently 0-2-0 at home this season and has yet to keep a clean sheet in the 2022 USL Campaign.
Match Up History
Saturday will be the eleventh matchup between the two sides in USL Championship history. Loudoun United FC are 0-9-1 against Hartford Athletic.