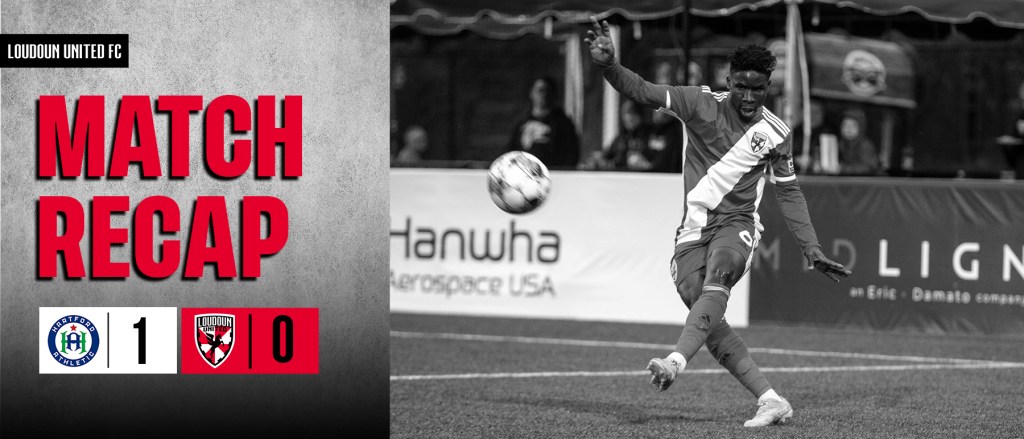 In their ninth match of the 2022 United Soccer League Championship Season Loudoun United FC fell to Hartford Athletic 0-1 at Trinity Health Stadium. The Red-and-White are now 2-6-1.
Loudoun United FC traveled to Hartford on Saturday night. Prior to Saturday's match, Loudoun United and Hartford Athletic have met ten times in the USL Championship.
The two teams exchanged chances early in the first half, with Skage Simonsen getting the first good chance in the 13th minute as he was slipped in behind by Sami Guediri but the shot went high of the crossbar. Just minutes later, Goalkeeper Luis Zamudio was tested from a header by Hartford's Andrew Lewis.
Zamudio was tested once again from a long range shot from Conor McGlynn that was easily collected by the goalkeeper. The difference in the match came just four minutes before the break as Corey Hertzog controlled near the halfway line and released Johnson in for a breakaway chance that he slotted home.
After halftime, the hosts had another chance to add to their score when Prince Saydee himself behind the defense but hit the crossbar as Zamudio closed space.
The Red-and-White are back on the road to face Detroit City FC on Saturday, May 14th. Kickoff is scheduled for 7:30 P.M. ET at Keyworth Stadium.
Player Notes 
Isaac Espinal made his fifth consecutive appearance for Loudoun United.
Three D.C United players played against Hartford Athletic including Hayden Sargis, Jacob Greene, and Gaossou Samaké.
#HFDvLDN
This was the eleventh time the clubs have met in the USL Championship. 
Loudoun United are now 0-10-1 against Hartford Athletic.
Match Notes
Loudoun United are now 2-6-1 in the USL Championship.