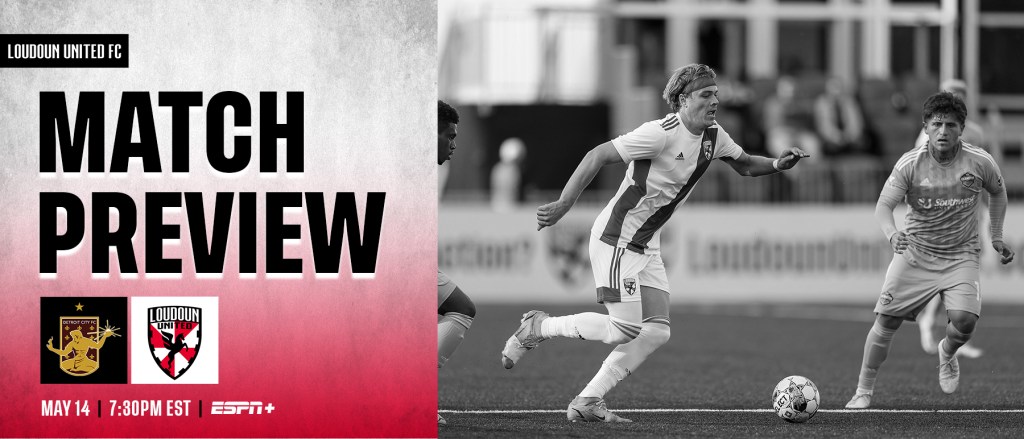 Loudoun United FC will play their tenth match of the 2022 United Soccer League (USL) Regular Season against Detroit City FC on Saturday, May 14th at 7:30 PM EST at Keyworth Stadium. This will be the Red-and-White's fifth away match and second of a two game road stretch. Saturday's matchup will be the first matchup against the Detroit side in the USL Championship.
Loudoun United News
Loudoun United come off a 0-1 loss against Hartford Athletic on Saturday, May 7th. Goalkeeper Luis Zamudio returned to the starting lineup and recorded four saves. Skage Simonsen led Loudoun with two shots. Loudoun United are currently 1-3-1 on the road. Azaad Liadi will be unavailable due to a red card received against El Paso Locomotive which resulted in a two-game suspension.
How can I Follow the Match?
Loudoun United will be hosting an Official Watch Party at Chefscape – Leesburg at 7:30 PM EST. Saturday's match will be available live to stream on ESPN+.
Head Coach Ryan Martin on Upcoming Match:
"We are excited to play a talented team in an electric environment in Detroit. Some of our guys had a tremendous midweek opportunity in the Open Cup with DCU and they will use that to grow and continue to progress as players, the others have been using the week to continue to get better and grow. As a group we are just very excited to get back on the field and continue to grow and fight for a win."
About Detroit City FC
Detroit City FC is currently 5-2-2 in the 2022 USL Championship season and come off a fresh loss against Louisville City on Tuesday in the Round of 32 of the U.S. Open Cup. Louisville defeated Detroit in a penalty kick shootout at Keyworth Stadium. Detroit currently sits in 3rd place in the Eastern Conference and is currently undefeated at home in the USL Championship this season. Prior to the 2022 USL Championship season, Detroit competed in the National Independent Soccer Association from 2020 to 2021 and the National Premier Soccer League from 2012 to 2019.
Match Up History
Saturday will be the first matchup between the two sides in USL Championship history.