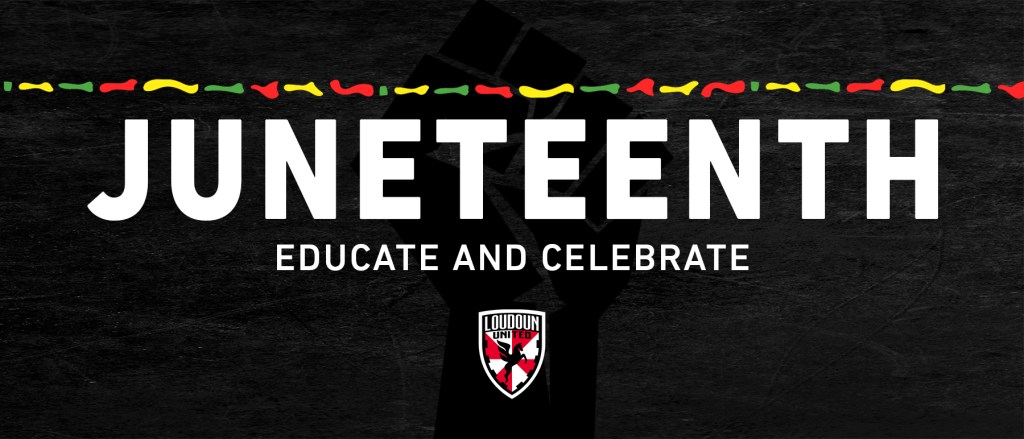 Loudoun United FC look to educate and reflect on the critical issues that perpetuate discrimination against Black people in America. Below are resources, quotes, and events that look to amplify Black voices around the Loudoun County community and the United States to better understand the day and how you can commemorate the federal holiday.
Juneteenth (short for "June Nineteenth") marks the day when federal troops arrived in Galveston, Texas in 1865 to take control of the state and ensure that all enslaved people are free. The troops' arrived two and a half years after the signing of the Emancipation Proclamation.
Juneteenth honors the end to slavery in the United States and is considered the longest-running African American holiday. On June 17, 2021, it officially became a federal holiday.
Hear From the Players
What does Juneteenth mean to you?
Rio Hope-Gund
"Juneteenth to me is an overlooked holiday. It is not only a significant holiday within the history of Black people in the States, but it's a reminder to us as a country that while slavery has ended, its effects have been long lasting and racism in this country is still very alive. It's a holiday for us to celebrate the progress we have made, but also remind us that there is still a lot of work to be done."
Jalen Robinson
"Personally, this holiday shows the strength and resilience of African Americans. I know this holiday is celebrated because it was the emancipation of the remaining enslaved people, and I can't help but feel the empowerment that comes with this holiday. Knowing that my ancestors endured so much for me to be in the position that I'm in today is very humbling and it makes me feel that I must continue to speak up against injustices until we are all truly equal in society."
Nicky Downs
"Juneteenth was not a major historical date taught to me in school, so learning its full context as an adult has given me a deeper appreciation for its significance. It is a day that marks the end of the ugliest era in our country's history. To me, it serves as both a reminder of the progress that has been bitterly fought for and won by so many Black Americans, but also of the long path ahead, one that will require everyone, especially those of us who are white, to help create a society that better lives up to our so vaunted American ideals."
What do you think is most important to creating lasting, positive change?
Rio Hope-Gund
"For me, one of the most important things we as people can do is better educate ourselves on current civil and social issues such as racism. Read books written on the topics, watch movies, listen to podcasts, go to events, and listen to people in your life who are personally dealing with and are affected by those issues."
Jalen Robinson
"Firstly, I think it comes down to inclusivity and healthy dialogue. Our voices will never be heard if legislation is passed without the inclusion of African Americans at the table. Secondly, I believe that we should continue to speak on the injustices that African Americans have and continue to endure and to not shy away from topics because they make people feel uncomfortable or uneasy. Once we are included at the table and the healthy dialogue continues then I think we can see a positive and lasting change."
Nicky Downs
"I think affecting change starts with the effort to acknowledge and reckon with our past, including celebrating holidays like Juneteenth. Moving forward necessitates understanding how much of the racism that persists today has deep historical roots. The racial inequalities that plague every aspect of modern American life from housing, education, and healthcare to voting rights and environmental and criminal justice, are systemic and institutional, which I think is the first thing we must grasp in order to envision lasting solutions."
Learn More About Racism & Social Justice
Books
You Want to Talk About Race by Ijeoma Oluo
The Autobiography of an Ex-Colored Man by James Weldon Johnson
How To Be an Antiracist by Dr. Ibram X. Kendi
The New Jim Crow: Mass Incarceration in the Age of Colorblindness by Michelle Alexander
The Color of Law by Richard Rothstein
Between the World and Me by Ta-Nehisi Coates
Women, Race, & Class by Angela Y. Davis
Articles
Don't understand the protests? What you're seeing is people pushed to the edge by Kareem Abdul-Jabbar
1619 Project: New York Times
Who Gets to Be Afraid in America? By Dr. Ibram X. Kendi | Atlantic
White Privilege: Unpacking the Invisible Knapsack by Peggy McIntosh
Watch
13th -Ava DuVernay (Netflix)
Just Mercy –Destin Daniel Cretton (Amazon Prime Video)
American Son -Kenny Leon (Netflix)
The Black Panthers: Vanguard of the Revolution -Stanley Nelson, Jr. (Available to rent)
When They See Us -Ava DuVernay (Netflix)
Interested in Supporting Loudoun County's Black-owned Businesses?
Visit loudounshopsblack.com to find anything you need including entertainment, financial services, dining, counseling, weddings, beauty, fitness, automotive services and much more.
Go to Local Community Events
June 19 – Celebration at Claude Moore Park
The Loudoun County Juneteenth Committee will kick off its celebration plans starting with a car caravan from Belmont Country Club at 3 p.m. to where the festivities will be held at Claude Moore Park in Sterling.
Steve Williams, president of the National Juneteenth Observance Foundation, said the celebration will also remember Private William H. Costley, who helped deliver the announcement that the Gulf of Mexico war had ended and that thousands of slaves were free, and honor fathers as Juneteenth falls on the same day when the first Father's Day was celebrated in 1910.
The legendary Buffalo Soldiers will present the flags to begin a day of readings, poems and re-enactments.
Legendary blues singer Johnny Rawls will perform followed by jazz and funk by the Funkativity featuring Kidd Funkadelic.
Games and food will be available, and there's no charge for entry or parking. People are urged to bring their own blanket and/or chair.
Visit juneteenthloudoun.org for more details.
For the second year in a row, the NAACP Loudoun Branch will lead marchers from for a half mile from the Loudoun County Courthouse in Leesburg to the Orion Anderson Lynching Memorial where Harrison Street and Depot Court meet.
The march will begin at 9 a.m.
Find Local Resources
The organizations listed may not be partners of Loudoun United FC. This is for informational purposes only.
Northern Virginia Black Chamber of Commerce
A great resource for those looking beyond the borders of Loudoun County.
NVBCC offers resources, networking events, and educational opportunities to help Black enterprises flourish in Northern Virginia and surrounding areas.
Loudoun NAACP's Committee on Economic Development works to increase employment and job creation, growth to business ownership, and economic empowerment among African Americans and other communities of color.
Follow Social Justice Organizations
The National Council of Incarcerated and Formerly Incarcerate Women and Girls