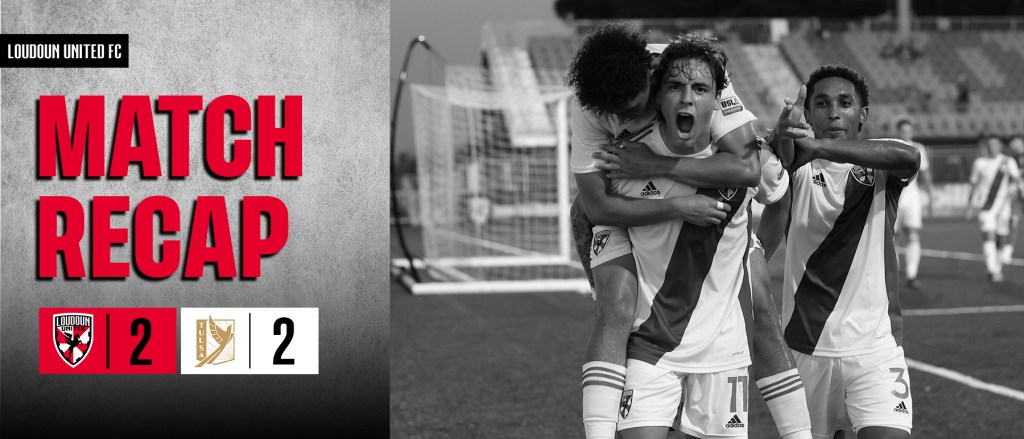 Loudoun United FC v FC Tulsa
2022 USL Regular Season – Match 17
July 3 – Segra Field
Attendance: 1,405
Player Notes
Forward Tyler Freeman started his first match since April 16 and scored a goal in the 55th minute.
Defender Jalen Robinson scored his first goal for Loudoun United FC in the seventh minute.
Michael Gamble leads Loudoun United with three assists on the season after assisting Tyler Freeman's goal.
Match Notes
Loudoun United are now 4-10-3 in the USL Championship.
#LDNvTUL Notes
This was the first time the two clubs have met in the USL Championship.
Loudoun United is now 0-0-1 against FC Tulsa.
Goals by Half
| | | | |
| --- | --- | --- | --- |
| | 1st Half | 2nd Half | Total |
| Loudoun United FC | 1 | 1 | 2 |
| FC Tulsa | 0 | 2 | 2 |
Scoring Summary
| | | | |
| --- | --- | --- | --- |
| Minute | Team | Goal Scorer | Assisted by |
| 7' | Loudoun United FC | Jalen Robinson | Nicky Downs |
| 55' | Loudoun United FC | Tyler Freeman | Michael Gamble |
| 85' | FC Tulsa | Dario Suarez | Gabi Torres |
| 90+7' | FC Tulsa | Rodrigo da Costa | Dario Suarez |
Misconduct Summary
| | | | |
| --- | --- | --- | --- |
| Minute | Team | Offender | Discipline |
| 17' | FC Tulsa | Abuchi Obinwa | Yellow card |
| 29' | FC Tulsa | Gabi Torres | Yellow card |
| 53' | Loudoun United FC | Jacob Greene | Yellow card |
| 88' | Loudoun United FC | Luis Zamudio | Yellow card |
| 90' | FC Tulsa | Eric Bird | Yellow card |
| 90' | Loudoun United FC | Michael Gamble | Yellow card |
Box Score
| | | | | | |
| --- | --- | --- | --- | --- | --- |
| Team | Shots | Shots on Goal | Corners | Possession (%) | Saves |
| Loudoun United FC | 9 | 4 | 5 | 39.2 | 5 |
| FC Tulsa | 17 | 7 | 4 | 60.8 | 2 |
Loudoun United FC starting lineup (3-5-2):
Starting XI: Luis Zamudio, Jalen Robinson, Carson Vom Steeg, Grant Lillard, Jacob Greene, Nicky Downs, Michael Gamble (Kristian Fletcher 91′), Gaossou Samaké, Tyler Freeman (Jeremy Garay 66′), Abdellatif Aboukoura (Azaad Liadi 58′), Skage Simonsen (Abdoul Zanne 58′)
Unused Substitutes: Dane Jacomen, Rio Hope-Gund, Houssou Landry
FC Tulsa starting lineup (3-4-3):
Starting XI: Austin Wormell, Ronald Rodriguez, Johnny Fenwick, Adrian Diz Pe, Bradley Bourgeois, Abuchi Obinwa (Petar Čuić 66′), Eric Bird, Gabi Torres, Lebo Moloto (Dario Suárez 63′), Rodrigo Da Costa, J.J. Williams (Brian Brown 66′)
Unused Substitutes: Kembo Kibato, Muchucha, Dallas Odle