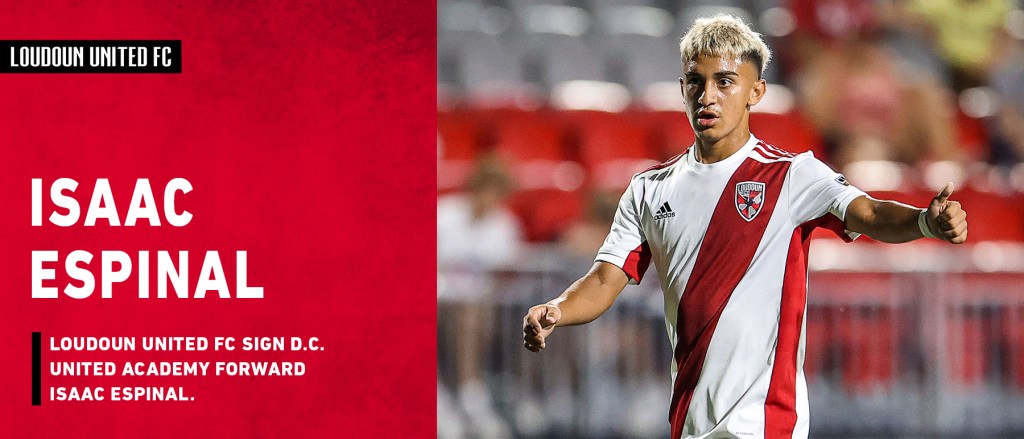 Loudoun United FC announced today the signing of D.C. United Academy forward Isaac Espinal to a professional contract.
The academy product made his professional debut for Loudoun United FC against New York Red Bulls II on Mar. 19, 2022. Since his debut, Espinal has appeared in six matches, playing a total of 105 minutes.
"We are very happy to keep one of our own at home," Loudoun United Head Coach Ryan Martin said. "Isaac [Espinal] is a tremendous attacking talent from our academy with great pace and ability to run in behind. We are very excited to help him progress on his journey."
The 16-year-old from Fairfax, Virginia is one of the eight D.C. United Academy players to appear with Loudoun United FC in the 2022 USL Championship season.
"I'm extremely excited to have signed my first professional contract with Loudoun United FC," said forward Isaac Espinal. "I would like to thank God for blessing me with this opportunity because without him, none of this would be possible. I would also like to thank my family for always pushing me to chase my dreams. I would also like to thank Loudoun United and D.C. United Academy staff for believing in me and pushing me to be the player I am today. I still have a ton of work to do, and I will give it my all day in and day out!"
Player: Isaac Espinal
Position: Forward
Birthdate: 10/06/2005
Age: 16
Hometown: Fairfax, Virginia
Country: United States
Height: 5'4"
Weight: 139 lbs
Status: Domestic