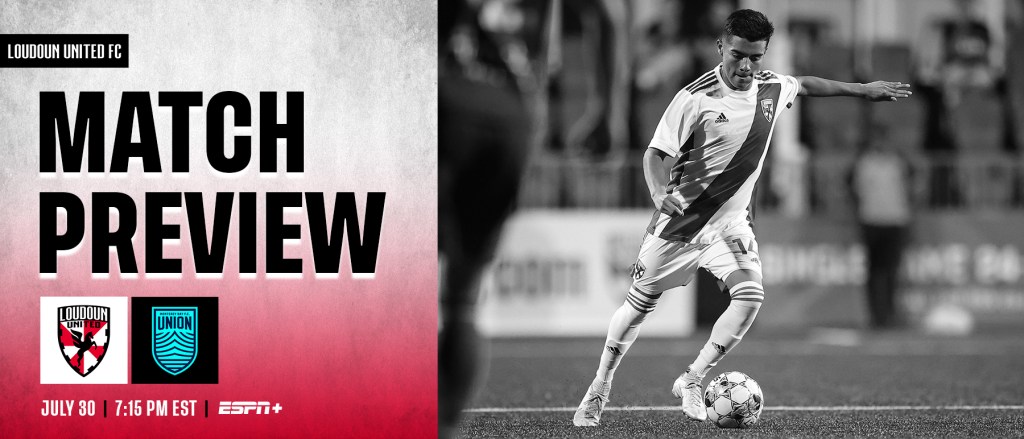 Loudoun United FC will play their twenty-first match of the 2022 United Soccer League (USL) Championship regular season against Monterey Bay FC on Saturday, July 30 at 7:15 PM EST. This will be the first-ever matchup between the two clubs in the USL Championship.
Loudoun United News
Loudoun United FC (LUFC) enter Saturday's matchup following a trip to Protective Stadium in Birmingham, Alabama on Wednesday, July 27. The Red-and-White fell to Birmingham Legion FC on the road, playing with 10-men.
16-year-old Kristian Fletcher recorded his first professional goal against Birmingham Legion FC. The teenager has started back-to-back games for the first time in his professional career. Skage Simonsen recorded the assist on Fletcher's goal, he now has two assists on the season. Goalkeeper Joe Rice started his first match for Loudoun United FC since June 25, recording five saves.
Houssou Landry has been suspended for one game following his red card for serious foul play against Birmingham Legion on July 27.
Forward Abdellatif Aboukoura continues his stint on international duty with the Egyptian Youth National Team. Aboukoura made his U20 debut in Egypt's 2-0 win over Somalia and qualified for the second round of the Arab U-20 Cup.
Head Coach Ryan Martin on Match Week 20
"For us, the focus is 100% on us in terms of being better and learning from our mistakes and growing. I think our start to [last] match wasn't good enough, our individual defending was pretty poor, and it took too long to get into the game especially against a veteran group and we're going to see something very similar in Monterey Bay…excited since we never played them, so it's another opportunity to go against a team we haven't faced yet."
"The focus is on us and improvement. Kristian [Fletcher] scored a tremendous goal and we're hoping to continue to build off of that. We felt as the game went along, we were better, and we were probably even better with 10 men than we were with 11. So, with young teams it's important of, 'can you continue to teach what a high performing player is?' and 'how can we help them get there and how can you do that on a consistent basis?' So that's been the message this week, we're excited for the game and 'Pathway 2 Pro'"
How can I Follow the Match?
Tickets to Saturday's match are available now at loudoununitedfc.com. Saturday's match will also be available to stream on ESPN+.
About Monterey Bay FC
Monterey Bay FC is 6-11-2 in their debut USL Championship season. The California-side topped New York Red Bulls II 2-0 at Cardinale Stadium. Monterey earned their third consecutive shutout against the Red Bulls. Monterey Bay FC currently holds a 2-8-0 record on the road.
Chase Boone leads the team with six goals in 14 appearances. Boone missed the match against New York Red Bulls II due to a calf injury. Adrian Rebollar earned a spot on the bench for USL Championship's Team of the Week for Week 20 following his performance, which included an assist, against New York.
Monterey Bay F.C.'s James Murphy has been suspended for one game following his red card for serious foul play against the New York Red Bulls II on July 23. Murphy will be unavailable for selection in Monterey Bay's contest against Loudoun United FC on Saturday night. Murphy has played in every match this season.
Match Up History
This will be the first-ever matchup between the two clubs.