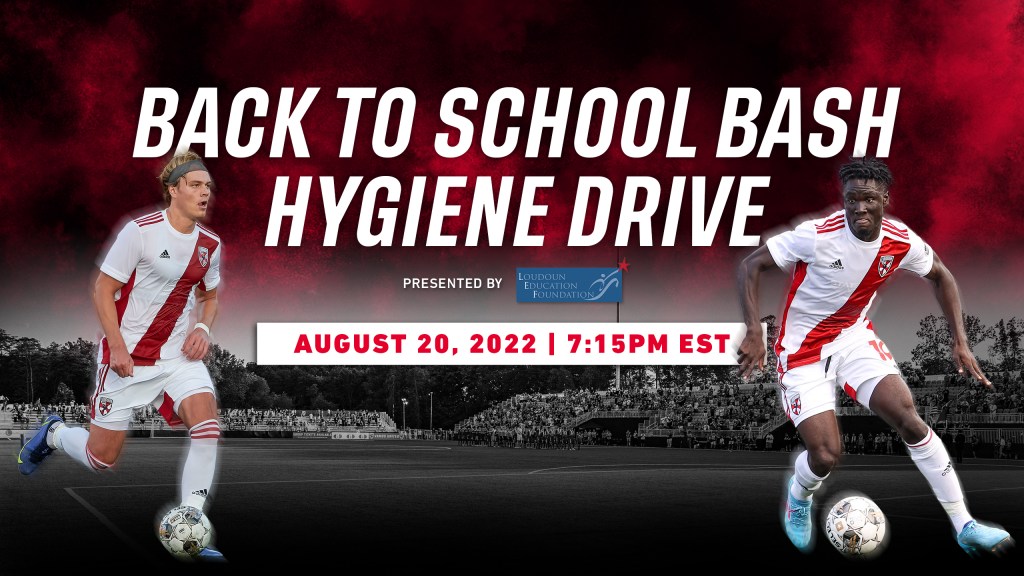 Loudoun United FC and Loudoun Education Foundation have combined efforts to host a hygiene drive on Saturday, August 20 at Loudoun United's Back-to-School Bash match against Atlanta United II. All participants who donate items will receive a Buy One, Get One ticket voucher for one of Loudoun United's three remaining home matches in 2022.
Loudoun Education Foundation launched in-school pantries in January 2022. Since then, the number of pantries doubled providing different food options, household items, and hygiene products for students in need. The pantries were visited over 200 times a week on average throughout all participating schools, distributing more than 4,000 hygiene items to more than 300 households since they were launched in January.
"We are honored to partner with Loudoun Education Foundation to support this essential cause," said Doug Raftery, Loudoun United FC Executive Business Officer. "As we kick off our Back-to-School Bash, it is important to note the sacrifices many families have to make in order to make ends meet while sending their children to school. We're doing our part in helping those in our own backyard."
Loudoun United will provide $500 worth of hygiene items as an initial donation to the hygiene drive.
The list of accepted donation items includes deodorant, shampoo, conditioner, soap, body wash, lotion, toothpaste, shaving cream, menstrual pads, razors, toothbrushes, dish soap, dryer sheets, laundry detergent, sponges. The in-school pantries are special in that families can come in and select the items they need, which results in less waste and increased sustainability.
Loudoun United will collect donated items at Segra Field starting when gates open (6:15 pm) and leading up to the 7:15 pm kickoff. The Buy One, Get One ticket voucher will be redeemable for one of Loudoun United's matches on September 4, September 21, or October 1, based on availability.
The items will be distributed by Loudoun United FC to the Loudoun Education Foundation following the match.
###
Loudoun United FC
Loudoun United FC (LUFC) is the highest-level professional soccer franchise in Loudoun County, Va. The club plays in the United Soccer League (USL) Championship, one of the most successful professional soccer leagues in the world. LUFC is the direct second division affiliate of MLS club, D.C. United. The club's home stadium is, 5000 seat Segra Field, which is located adjacent to Philip A. Bolen Memorial Park and Loudoun Soccer Park near the Leesburg Airport.
Loudoun Education Foundation
The Loudoun Education Foundation makes connections with individuals, organizations and local businesses interested in supporting educational programs within Loudoun County Public Schools. As an independent nonprofit, the LEF engages the community to invest in critical and innovative programs that foster academic success and the well-being of students and teachers. It funds programs that stimulate students' curiosity, create exceptional learning opportunities, and provide needed resources to teachers, students, and families.