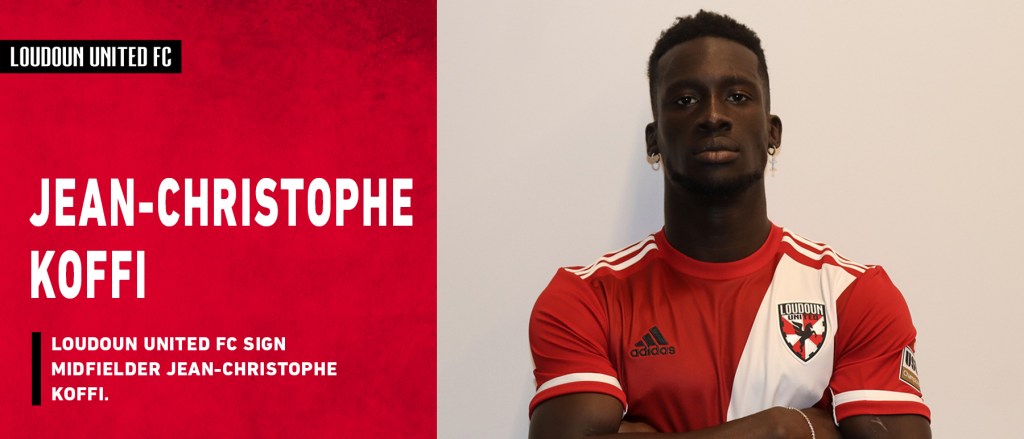 Loudoun United FC announced today the signing of midfielder Jean-Christophe Koffi.
The D.C. United Academy product returns to the DMV after recent stints with French club Sète and USL Championship club Memphis 901 FC. The midfielder spent four years with D.C. United Academy from 2011-2015.
Born in Abidjan, Ivory Coast, Koffi spent his collegiate years at the University of Virginia where he helped the Cavaliers to three consecutive NCAA Tournament appearances. Koffi played a total of 57 games, recording six goals and seven assists. In his final season with Virginia, Koffi earned First Team All-ACC honors before turning his attention to the professional ranks.
On Sept. 7, 2018, Koffi signed with the New York Red Bulls and officially joined the club on January 1, 2019. He made his professional debut with the New York Red Bulls II in a 3-1 victory over Swope Park Rangers. Koffi appeared in 27 games for Red Bulls II throughout the 2019 season, with 26 starts.
"We are very excited to have Koffi come back home and join us for the rest of the year," said Head Coach Ryan Martin. "He has had great experiences in the U.S. and abroad. He brings size, power, and athleticism to the squad."
In 2020, Koffi appeared in 10 matches for Memphis 901 FC playing a total of 641 minutes. On Nov. 3, 2021, he signed with Sète in the French third tier Championnat National where he appeared in four matches.
Player: Jean-Christophe Koffi
Position: Midfielder
Birthdate: 01/05/1998
Age: 24
Hometown: Potomac, Maryland
Birthplace: Abidjan, Ivory Coast
Height: 5'9"
Weight: 174 lbs
Status: Domestic