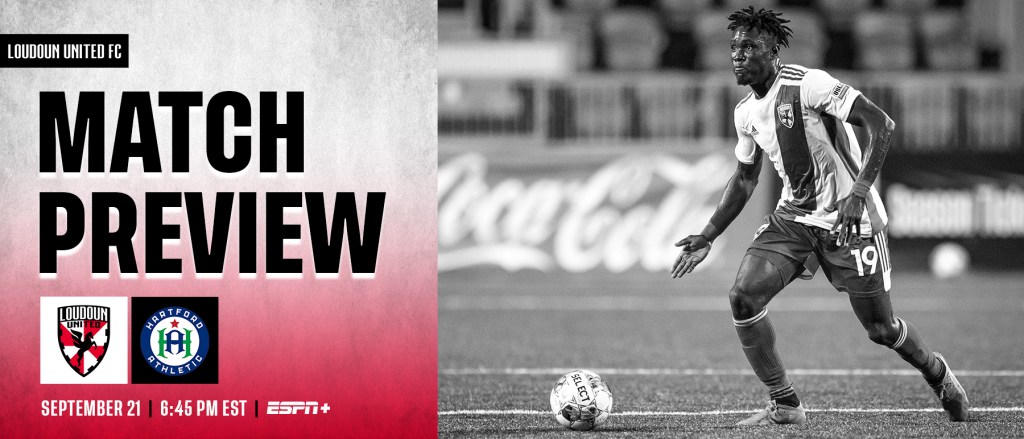 The Red-and-White return to Segra Field to take on Eastern Conference rivals, Hartford Athletic. Kickoff is scheduled for 6:45 p.m. ET. Hartford have been eliminated from playoff contention and sit nine points ahead of Loudoun United in the Eastern Conference standings.
Loudoun United News
Loudoun United FC (LUFC) returns to the DMV after most recently falling to Eastern Conference leaders, Louisville City FC.
Forward Ted Ku-DiPietro recorded a goal and an assist in the hard-fought match. Just before the halftime break, Skage Simonsen turned his defender and slipped the Homegrown in behind the defensive line to find Loudoun's first of the night. Skage Simonsen now leads the team with five assists in 20 appearances.
Forward Zoumana Diarra recorded his first Loudoun United goal at Lynn Family Stadium. D.C. United loanee Ku-DiPietro fed the Ivorian behind Louisville's backline in the 62nd minute for the calm finish into the back of the net.
Homegrown D.C. United midfielder Jeremy Garay has been called up by the El Salvador National Team to face Peru at Audi Field on September 27. Garay has played in 18 matches this season, scoring his first professional goal against Atlanta United II on Aug. 20.
Head Coach Ryan Martin's Thoughts on the Upcoming Match
"We couldn't be happier to return to Segra Field against a solid Hartford team in good form. Once again, the focus is on ourselves and cleaning up mistakes from the previous matches. We look to do a better job of not conceding multiple goals against good teams. I was proud of the team's performance in the second half of the Louisville match, and we look to collectively start the match on Wednesday with the same intensity."
How can I Follow the Match?
Kickoff is slated for 6:45 P.M. EST. Tickets can be purchased here. The match will also be available to stream on ESPN+.
Scouting Report
Hartford Athletic return to Segra Field having never lost a match in 11 contests against the Red-and-White. The Connecticut-side looks to stay hot, winning four of their last five matches.
The Green-and-Blue secured the 3-0 victory over Las Vegas on Saturday to keep their winning streak alive. Athletic held a two-goal lead heading into halftime. A goal from Tom Brewitt sealed the shutout win for the home-side.
Hartford and Loudoun last faced each other on May 7 at Trinity Health Stadium, Hartford's first win of the season. Joel Johnson scored the lone goal in the 41st minute
Hartford Athletic vs. Loudoun United FC – Game Highlights | 05-07-2022
On August 22, Hartford Athletic introduced U.S. Men's National Team legend and National Soccer Hall of Famer Tab Ramos as Head Coach. Ramos took over duties on September 10th against FC Tulsa. Wednesday's match will be his third at the realm, winning the last two at home.
In the Concourse
Wednesday night is '703 Night' at Segra Field and will feature $2 Coors Light and Miller Lite. For more information and to purchase tickets visit 703 Night – Loudoun United FC.