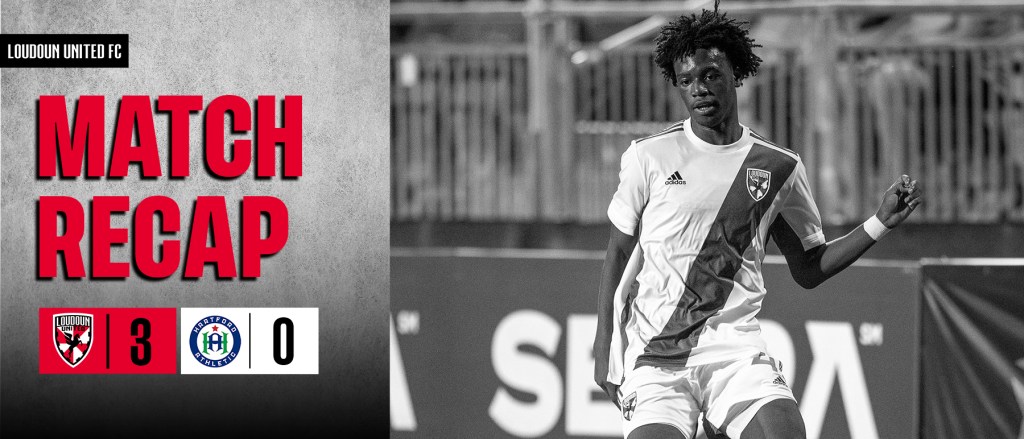 In their second meeting of the season, Loudoun United FC (LUFC) blanked Hartford Athletic 3-0 at Segra Field. In front of 2,000+ fans, the Red-and-White had a dominant 90-minute performance for their first win over Hartford in Ryan Martin's 100th match at the realm.
After a quiet first-half from both sides, LUFC erupted in the second half. In the 50th minute, Ted Ku-DiPietro scored the go-ahead goal. On quick restart, Nicky Downs found Skage Simonsen between the midfield and defensive line. The Norwegian found Ku-DiPietro with a clever flick, who then left his defender in the dust with a quick touch into backspace followed by a tidy finish.
In the 66th minute, Tyler Freeman laced up his boots and went to work. Simonsen recorded his second assist with a back-heel pass to the Kansas native. Loudoun's leading goal scorer made no mistake in burying his shot into the back of the net.
Freeman's night had just begun. Less than three minutes later, Ku-DiPietro won a well-timed tackle. The D.C. United Homegrown beat two defenders on the dribble before feeding Freeman onto goal. Freeman calmly finished the ball into the bottom right corner to seal the win for Loudoun United.
Goalkeeper Luis Zamudio recorded four saves on the night for his seventh clean sheet of the season.
Player Notes
Ryan Martin recorded his 100th match as Head Coach of Loudoun United FC.
Forward Tyler Freeman recorded a brace, scoring his first goal in the 71′ minute and his second goal in the 74′ minute.
Forward Skage Simonsen recorded two assists; Simonsen now leads the team with seven assists on the season.
Forward Ted Ku-DiPietro recorded one goal and one assist, scoring in the 50′ minute.
D.C. United Academy's Gavin Turner played 13 minutes, subbing on in the 77′ minute.
Goalkeeper Luis Zamudio started the match and recorded four saves on the night for his seventh clean sheet of the season.
Five D.C. United players appeared for Loudoun United FC including Matai Akinmboni, Ted Ku-DiPietro, Kimarni Smith, Jacob Greene and Kristian Fletcher.
#LDNvHFD Notes
This was the twelfth time the two clubs have met in the USL Championship.
Loudoun United FC is now 1-10-1 against Hartford Athletic.