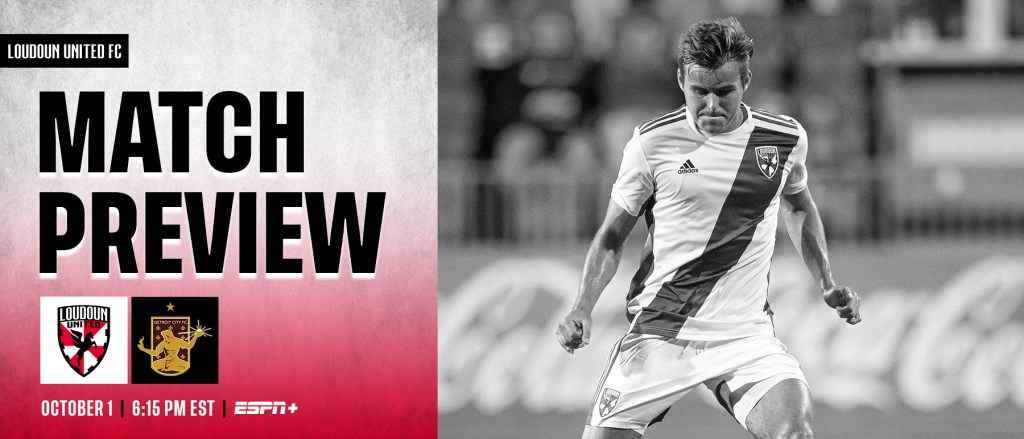 Loudoun United FC (LUFC) are set to take on Detroit City FC at Segra Field on Saturday to close out their 2022 home season schedule. This is the second edition of the Eastern Conference matchup and the first of its kind at Segra Field.
As LUFC celebrates Fan Appreciation Night, the Red-and-White will look to take 3 points off the Michigan-side in front of the home crowd.
Loudoun United FC vs. Detroit City FC is set to kick off 6:15 p.m. ET with a live broadcast on ESPN+.
Loudoun United News
Loudoun United FC (LUFC) head into their last home match of the 2022 USL Championship season, following a win and a loss in Week 29.
Loudoun look to put a 1-0 defeat to Indy Eleven behind them. Indy used a second half penalty conversion to capture the win at Michael A. Carroll Stadium.
Goalkeeper Dane Jacomen and D.C. United Academy's Gavin Turner both earned their first start for the Red-and-White.
The last time United took Segra Field, 'lethal' was the best way to describe them. Scoring three goals and recording a shutout, Ryan Martin's squad put on a show for the gaffer's 100th match in charge.
D.C. United's Ted Ku-DiPietro scored the opening goal while Tyler Freeman recorded a brace as a second-half substitute. Skage Simonsen assisted twice in the match, with the Norwegian now holding Loudoun United's single-season assist record (7).
Following the performance, Loudoun United landed three players on USL Championship Team of the Week – Tyler Freeman, Skage Simonsen and Ted Ku-DiPietro.
Midfielder Jeremy Garay had a sweet homecoming at Audi Field with El Salvador. Garay continues his international duties ahead of the weekend.
Head Coach Ryan Martin's Thoughts on the Upcoming Match
"We couldn't be more excited to come back to Segra Field for a tough opponent. We felt like we played well in our last match and this week we have been focusing quality execution in our final action. We will keep pushing and look forward to a practice quality performance Saturday night."
How can I Follow the Match?
Kickoff is scheduled for 6:30 P.M. EST. To purchase tickets, click here. The match will also be available to stream on ESPN+.
Scouting Report
Detroit City FC enters Saturday's match after earning a point in a four-goal thriller against FC Tulsa in their last outing. Following their 12th draw of the season, Detroit City now travels to Leesburg with a record of 13-12-6.
Yazeed Matthews and Michael Bryant were on the scorecard for Detroit in their last match. Antoine Hoppenot assisted Bryant for the game-tying goal in the 75th minute. Hoppenot recorded his 10th assist of the season, which has him tied for 1st place in the league.
Detroit's Pato Botello Faz leads the team with eight goals in 28 appearances, while goalkeeper Nathan Steinwascher has kept 11 clean sheets, appearing in all 30 matches.
In The Concourse
Saturday's match is Fan Appreciation night at Segra Field. The evening will kick off with a pre-match party, which will offer 50% off beer, wine and soda. Throughout the match, fans will have the opportunity to win prizes. Following the match, Loudoun United FC will be hosting the first-ever Segra Field firework show. For more information and to purchase tickets, visit Fan Appreciation Night – Loudoun United FC.