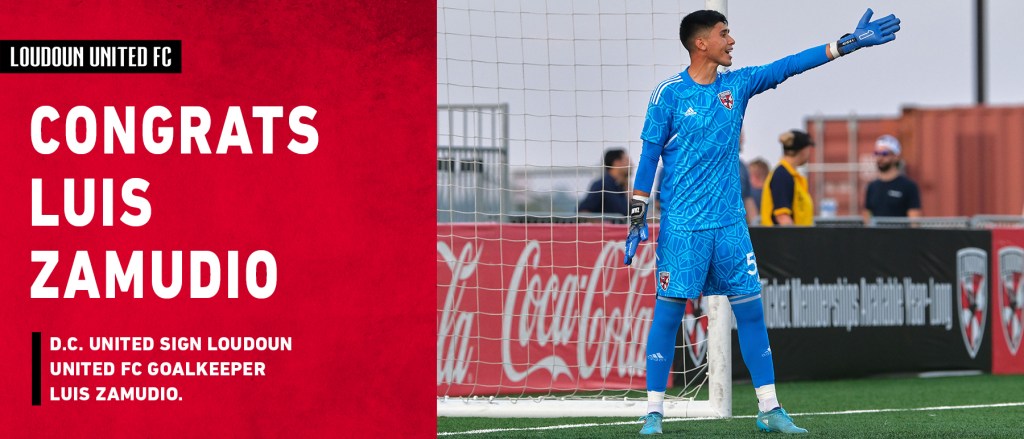 Loudoun United FC announced today that D.C. United have signed goalkeeper Luis Zamudio ahead of the 2023 MLS season.
"Luis has fully deserved this MLS contract after some excellent performances for Loudoun this year," Stewart Mairs, Loudoun United General Manager, said. "He has made real progress and we're proud of him for making this jump up to the D.C. United first team. Loudoun United continues to be a great proving ground for developing future MLS players and is further testament to the success of the Pathway to Pro program."
The Las Vegas native signed with Loudoun United FC on March 11, 2022 and made his debut for the club the following day on March 12, 2022, in a 1-0 victory over Indy Eleven. Zamudio started in 27 matches and recorded seven shutouts for the Red-and-White. He finished second in the USL Championship with 105 saves on the season.
"Luis has trained regularly with our first team goalkeepers this season and has impressed the staff hugely with his ability, attitude and application," Lucy Rushton, D.C. United General Manager said. "We are excited to see his continued development under Diego Restrepo [Head of goalkeeping] and think he will be a great addition to our roster in the 2023 season."
The 24-year-old goalkeeper started his career with Club America's youth academy of Liga MX in 2019 and he spent four seasons. He subsequently signed with North Texas SC of the USL League One on Feb. 7, 2020 where he started in four matches, playing a total of 360 minutes. Zamudio spent the following 2021 season with Inter Miami II, debuting for the club on April 10, 2021, in a 0-1 loss to the New England Revolution II. In total, he started in nine matches accumulating 810 minutes and one shutout for Inter Miami II.
Player: Luis Zamudio
Position: Goalkeeper
Transaction: D.C. United Sign Loudoun United FC Goalkeeper Luis Zamudio