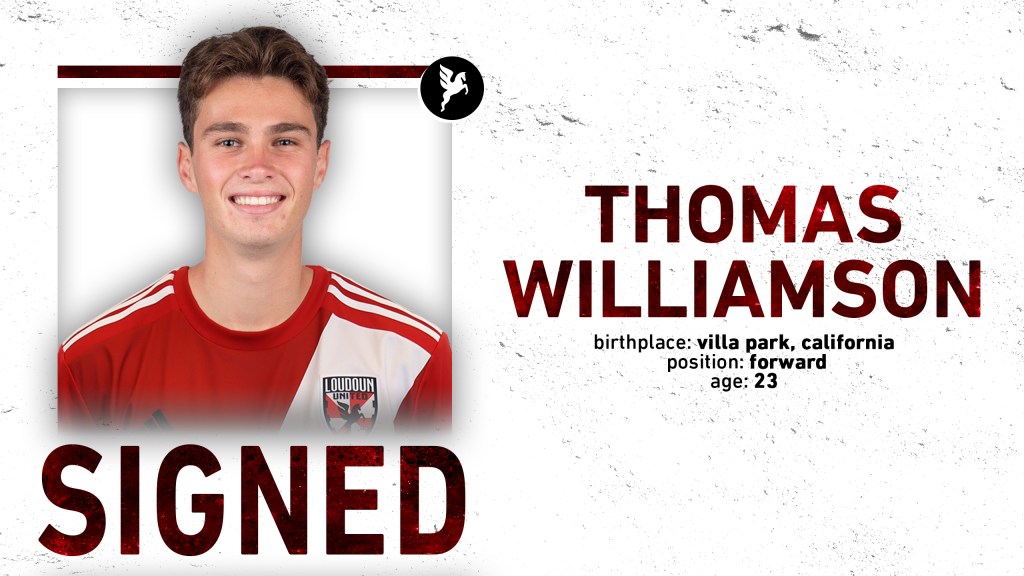 Leesburg, VA. (December 13, 2022) – Loudoun United FC announced today the acquisition of forward Thomas Williamson.
"Tommy [Williamson] will be a massive piece of the Loudoun puzzle in 2023," Ryan Martin, Loudoun United FC Head Coach, said. "He has great size and technique. He can score in a variety of ways and his set pieces are lethal. Not only is he a dangerous goalscorer, but he also can combine with others."
Williamson was drafted by the San Jose Earthquakes with the 12th pick of the 2021 MLS SuperDraft. The forward spent the 2021 season on loan to USL Championship opponents, the Pittsburgh Riverhounds. The six-foot-one-inch forward played 27 games for the Riverhounds, scoring six goals in his first professional season including one against the Red-and-White on September 11, 2021.
Minnesota United 2 signed the 23-year-old to an MLS Next Pro professional contract ahead of the 2022 season. Williamson went on to score nine goals and recorded three assists in 21 games (14 starts) including a hat trick against Colorado Rapids 2 in a 3-3 draw.
The UC Berkley graduate played three seasons with the Bears and was a standout in his junior year, scoring a career-high nine goals while earning All Pac-12 and Pac-12 All-American Honorable Mention honors.
Player: Thomas 'Tommy' Williamson
Position: Forward
Birthdate: 05/05/1999
Age: 23
Birthplace: Villa Park, California
Height: 6'1"
Status: Domestic