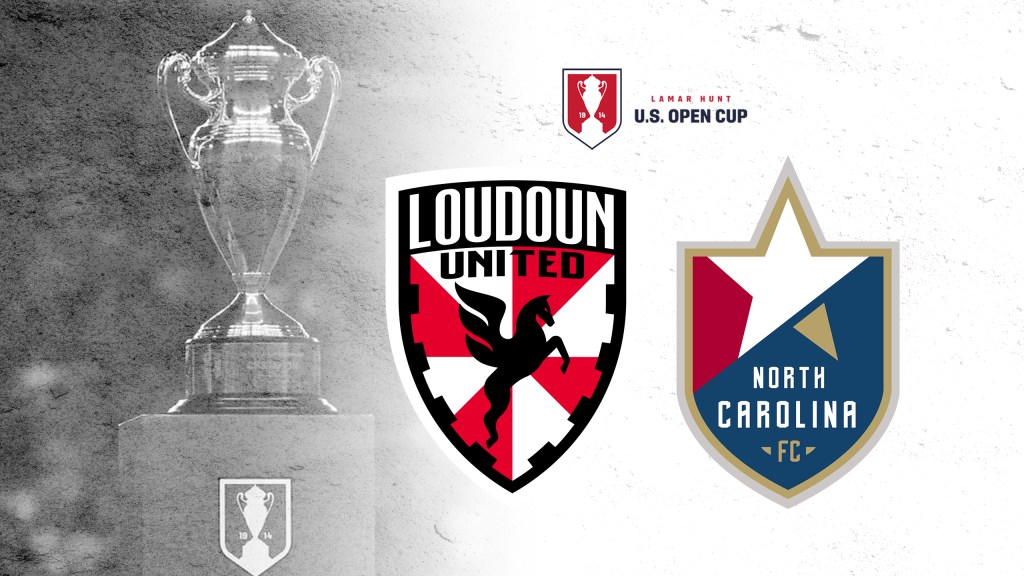 LEESBURG, VA. (Feb. 16, 2023) – Loudoun United FC will play host to USL League One side North Carolina FC in the Second Round Proper of the 2023 Lamar Hunt U.S. Open Cup. Time and date of the match will be announced at a later date. In the club's first-ever U.S. Open Cup match, the Red-and-White will host at the friendly confines of Segra Field.
Tickets will be available to Loudoun United FC Season Ticket Members on Wednesday, March 1.  Single-match tickets  for the Second-Round match will be available on March 2. Group tickets are now available. For more information about tickets, click here.
The contest will be the third-ever meeting between Loudoun United FC and North Carolina FC. The series is tied 1-1-0 with both meetings coming in the 2019 USL Championship season. The first matchup on July 17 saw North Carolina come out as victors, while the second match played at Segra Field on August 31 finished a 4-0 win in favor of Loudoun United FC.
Competition rules for the Second Round require First Round winners to be paired against either a Division II or Division III club. Pairings were made on a geographical basis. If three or more teams/pairings were from the same proximity, matchups for these teams were made by random selection.
Eighteen lower-seeded U.S.-based Division I Major League Soccer clubs will enter in the Third Round, which will be played April 25-26, while the remaining eight MLS sides will take the field in their first Open Cup action in the Round of 32 on May 9-10.
Loudoun United FC kicks off the 2023 USL Championship season on March 11 at Memphis 901 FC. The Red-and-White are set to host defending champions San Antonio FC at Segra Field on March 19.
Tournament Proper Dates
Tuesday, March 21 – Thursday, March 23 – First Round Proper (National League Qualifiers Enter)

Tuesday, April 4 – Thursday, April 6 – Second Round Proper (Division II teams enter)

Tuesday, April 25 – Wednesday, April 26 – Third Round Proper (Division I teams enter)

Tuesday, May 9 – Wednesday, May 10– Round of 32 (6 to 8 seeded teams enter)

Tuesday, May 23 – Wednesday, May 24 – Round of 16

Tuesday, June 6 – Wednesday, June 7 – Quarterfinal
Wednesday, Aug. 23 – Semifinal

Wednesday, Sept. 27 – Final
###

About Loudoun United FC
Loudoun United FC (LUFC) is the highest-level professional soccer franchise in Loudoun County, Virginia. The club plays in the United Soccer League (USL) Championship, one of the most successful professional soccer leagues in the world. LUFC was founded by Major League Soccer club D.C. United in 2018. Loudoun United FC will begin the 2023 season on the road against Memphis 901 FC on Saturday, March 11. The Red-and-White will face defending USL Championship title holders San Antonio FC in their home opener on Sunday, March 19 at Segra Field. For more information and to purchase tickets, please visit www.loudoununitedfc.com.
To keep up with news and information on the team, follow @loudoununitedfc on Twitter and Instagram.
About the Lamar Hunt U.S. Open Cup
Now in its 108th edition, the Lamar Hunt U.S. Open Cup – U.S. Soccer's National Championship – has crowned a champion since 1914 in every year except 2020 and 2021. The history-filled tournament is conducted on a single-game-knockout basis and open to all professional and amateur teams affiliated with U.S. Soccer. In 1999, the oldest ongoing national soccer competition in the United States was renamed to honor American soccer pioneer Lamar Hunt.
The 2023 U.S. Open Cup winner will earn $300,000 in prize money, a berth in the 2024 Concacaf Champions League and have its name engraved on the Dewar Challenge Trophy – one of the oldest nationally-contested trophies in American team sports – now on permanent display at the National Soccer Hall of Fame in Frisco, Texas. The runner-up will earn $100,000, while the team that advances the furthest from each lower division will take home a $25,000 cash prize.
Orlando City SC are defending Open Cup champions, having earned the club's first tournament title thanks to a 3-0 victory against second division (USL Championship) side Sacramento Republic FC on September 7, 2022 in a Final played before a capacity crowd at Orlando's Exploria Stadium.