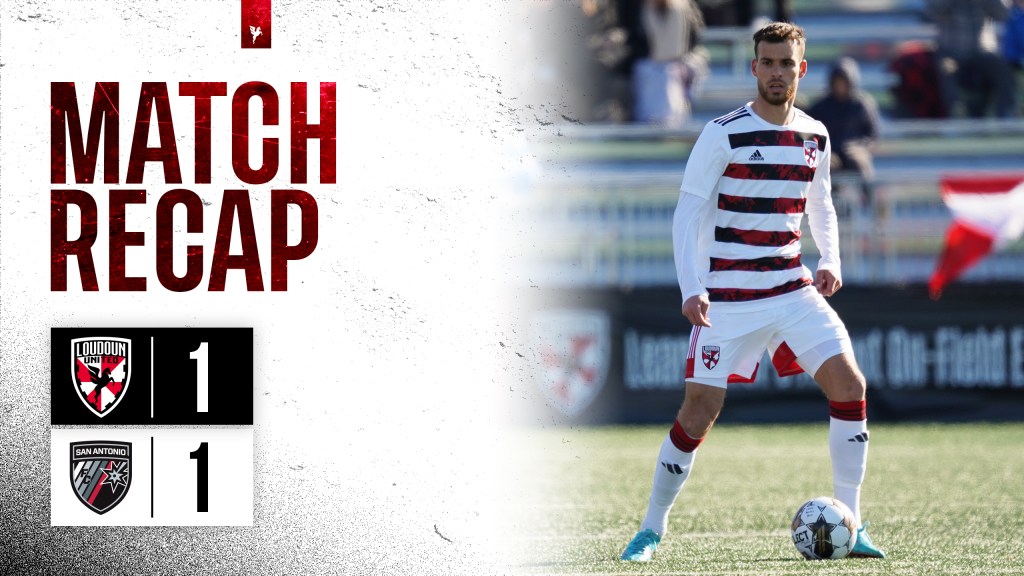 Loudoun United FC drew San Antonio FC 1-1, moving the team to 1-0-1 with four points on the season. Forward Zach Ryan scored the lone Red-and-White goal in the match, his third of the season.
United came out the gates hot, holding 67.3% possession over the opening 15 minutes of the game. Kalil ElMedkhar almost opened the scoring in the 20th minute, dropping his defender with a quick turn and forcing San Antonio's goalkeeper into a save.
Loudoun opened the scoring in the 35th minute with no other than the team's leading goal scorer, Zach Ryan. Defender Cole Turner found Panos Armenakas with space in the midfield. Armenakas drove at the backline before playing Zach Ryan with a perfectly weighted ball on the right flank. Ryan made no mistake, taking a touch into the box before burying the ball off-the-post into the bottom left corner of the net.
San Antonio would level it in the 55th minute to make it 1-1. Goalkeeper Dane Jacomen started his first match of the season for the Red-and-White. Jacomen was called into action six times throughout the match, including a big save to keep the score level in the 58th minute.
Forward Zach Ryan was given a red card in the 91st minute of the match. The duration of his suspension is to be determined by the league.
Ryan Martin on the match:
Zach Ryan on the match:
Goalkeeper Dane Jacomen on the match:
Next up
Loudoun United travel to Tulsa, Oklahoma for a Saturday night clash against FC Tulsa. Kickoff from slated for 8:30 PM ET at ONEOK field. The match will broadcast on ESPN+.
Loudoun United FC v San Antonio FC
2023 USL Regular Season – Match 2
March 19 – 4:00 PM ET
Segra Field
Attendance: 3,411
Player Notes
Forward Zach Ryan recorded his third goal of the season.
Forward Panos Armenakas recorded his first assist of the season.
Goalkeeper Dane Jacomen started in goal, recording six saves.
Match Notes
Loudoun United are now 1-0-1 in the USL Championship.
#LDNvSA Notes
This was the second time the two clubs have met in the USL Championship.
Loudoun United FC is now 0-1-1 against San Antonio FC.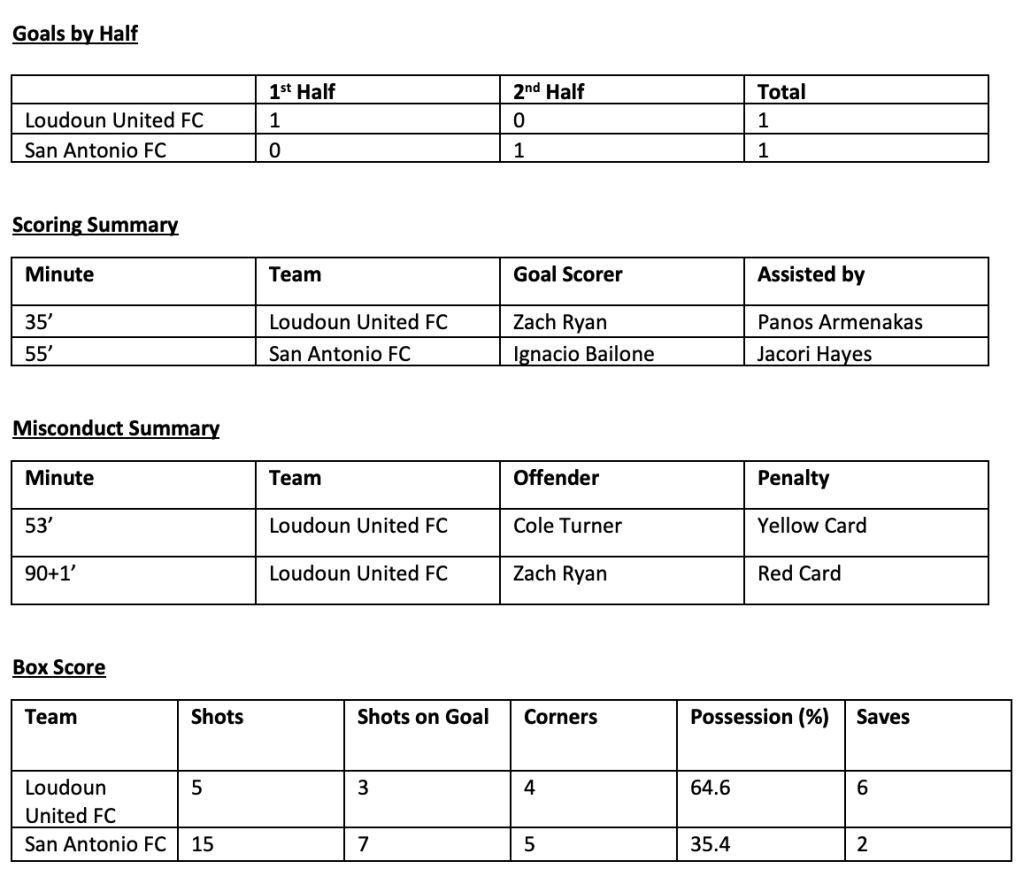 Loudoun United FC starting lineup (4-3-3):
Starting XI: Dane Jacomen, Koa Santos, Yanis Leerman, Cole Turner, Gaoussou Samake, Panos Armenakas (Wesley Leggett, 89′), Aidan Rocha, Houssou Landry (Bryce Washington, 64′), Kalil ElMedkhar (Abdoul Zanne, 78′), Tommy Williamson (Jeremy Garay, 78′), Zach Ryan
Unused Substitutes: Drew Hartman, Juan Ramirez, Abdoul Koanda
San Antonio FC starting lineup (4-3-3):
Starting XI: Jordan Farr, Shannon Gomez, Mitchell Taintor, Fabien Garcia, Lamar Batista, Connor Maloney, Jacori Hayes, Victor Giro (Mohammed Abu, 14′), Kimarni Smith (Zico Bailey, 45′), Ignacio Bailone, Justin DhillonUnused Substitutes: Carlos Mercado, Mateo Gonzalez, Eduardo Fernandez, Dalziel Ozuna