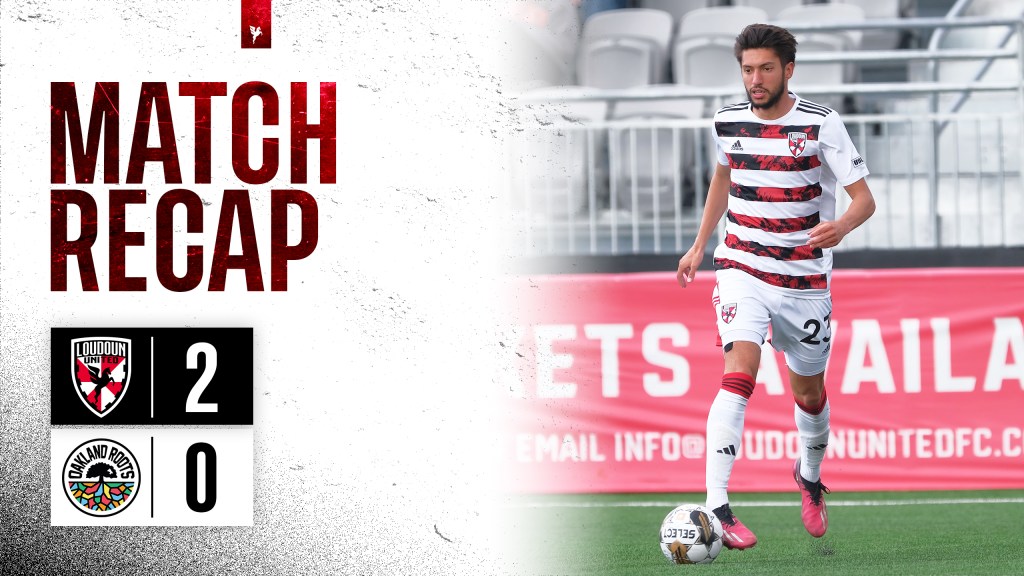 Loudoun United FC v Oakland Roots SC
2023 USL Regular Season – Match 6
April 23 – 4:00 PM ET
Segra Field
Attendance: 2,061
Three wins in a row. Loudoun United continue to turn heads in the USL as they defeat Oakland Roots SC 2-0 on Sunday afternoon. The win pushes the Red-and-White into fourth place in the Eastern Conference standings with a game in hand.
The first test of United's three-match week stretch served to be a good one. Goalkeeper Hugo Fauroux was called into action early, saving a 1v1 in the 10th minute of the match.
Loudoun then turned on the pressure as Forward Wesley Leggett found United's leading goal scorer on the top of the box. Forward Zach Ryan did well to find space for a shot, forcing Oakland's goalkeeper to make the stop.
In the 29th minute, Leggett continued his run of goal contributions, winning a penalty for Loudoun following a high kick to the face. Zach Ryan stepped up from 12-yards out and buried it home.
In the 58th minute, Panos Armenakas delivered a goal of the week contender. The Australian international picked up a loose ball on the top of the box and curled it into the top corner, giving the goalkeeper no chance.
Loudoun United head into Open Cup on Wednesday with back-to-back clean sheets and three wins in a row. Purchase your tickets for the Third Round of the Lamar Hunt U.S. Open Cup here.
Player Notes
Forward Zach Ryan scored his fifth league goal of the season from the penalty spot in the 30th minute.
Forward Panos Armenakas scored his first Loudoun United goal in the 58th minute.
Defender Daniel Chica made his USL debut in the 92nd minute.
Goalkeeper Hugo Fauroux started in goal, recording one save.
Match Notes
Loudoun United are now 3-2-1 in the USL Championship.
#LDNvOAK Notes
This was the second time the two clubs have met in the USL Championship.
Loudoun United FC is now 1-1-0 against Oakland Root SC.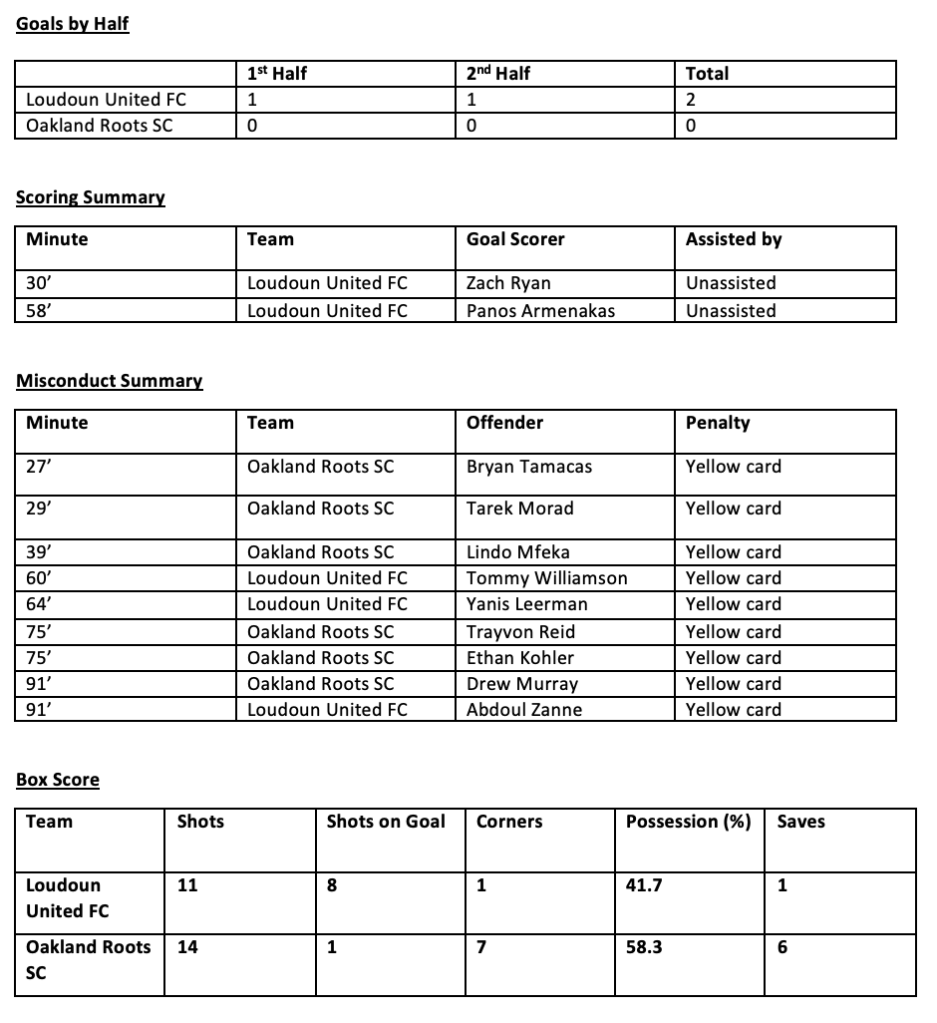 Loudoun United FC starting lineup (4-4-2):
Starting XI: Hugo Fauroux, Aidan Rocha, Yanis Leerman, Bryce Washington, Gaoussou Samake, Panos Armenakas (A. Koanda, 92′), Houssou Landry, Juan Ramirez (J. Garay, 72′) , Kalil ElMedkhar (A. Zanne 72′), Zach Ryan (D. Chica, 92′), Wesley Leggett (T. Williamson 54′)
Unused Substitutes: Dane Jacomen, Isaac Espinal
Oakland Roots SC starting lineup (3-4-3):
Starting XI: Paul Blanchette, Daniel Barbir, Tarek Morad, Emrah Klimenta (N. Hackshaw 71′), Guillermo Diaz (K. Wright 80′), Irakoze Donasiyano, Napo Matroos (J. Nane 71′), Bryan Tamacas (D. Murray 88′), Dariusz Formella, Anuar Pelaez, Lindo Mfeka
Unused Substitutes: Taylor Bailey, Ethan Kohler
Ryan Martin on the win:
Panos Armenakas on his first goal and the win:
Zach Ryan on the team's performance: