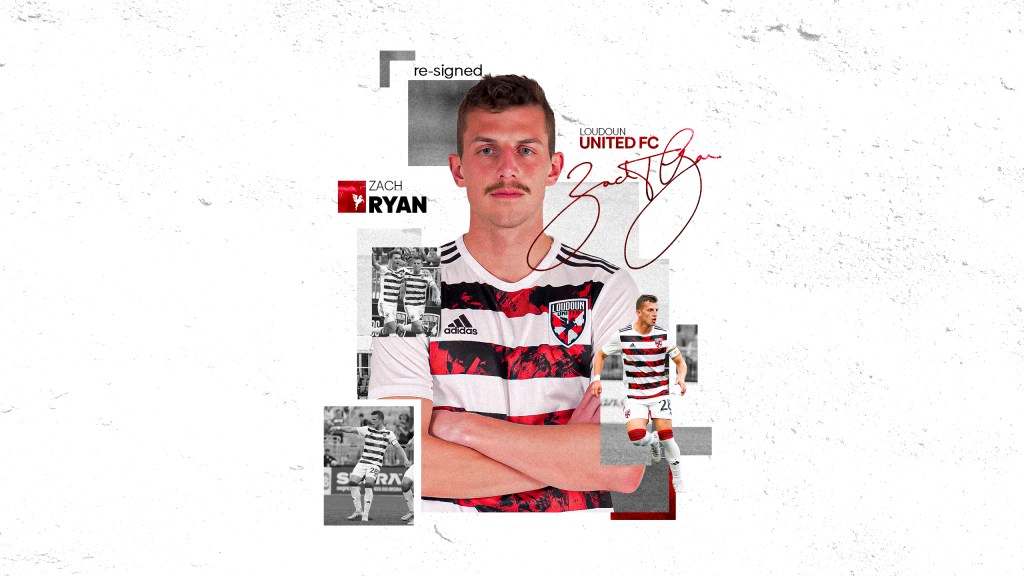 Leesburg, VA. (November 14, 2023) – Loudoun United FC (LUFC) announced the re-signing of forward and captain Zach Ryan, extending his contract through 2025, with an option for the 2026 season.
"We couldn't be more excited to have Zach [Ryan] return to Loudoun United and build on his strong performance during the 2023 season," said Ryan Martin, Loudoun United FC Head Coach. "Zach is not only a very talented player and goal scorer, but a tremendous competitor and leader. He is a key piece to our 2024 campaign and the culture we are building at the club."
Ryan returns to the Red-and-White following a breakout 2023 season where he recorded a team-high 10 goals and three assists in 29 USL Championship appearances. In addition to his goal contributions, he provided a focal point in the attack by completing nearly 85% of his passes.
"Zach is a model Attain Way leader on and off the field, and brings a high level of energy, work ethic, and discipline that will be the cornerstone pillars to the winning culture we are building in Loudoun United," said Greg Baroni, CEO and Managing Partner of Attain Sports, the controlling owner. "We are fully committed to assembling a formidable roster for 2024 and beyond, with the goal of positioning the team for top-tier competition in the upcoming season."
Before making the move to Loudoun United for the 2023 season, Ryan competed in Major League Soccer (MLS) with the New York Red Bulls during the 2022 season, making his MLS debut against Toronto FC on March 5, 2022. The 6'1" forward played in two Open Cup matches, including a victory against D.C. United where he recorded his first career U.S. Open Cup goal.
Prior to his professional career, Ryan was a four-year letterman at Stanford University. The forward, who served as team captain during his junior and senior years, made 73 appearances (67 starts), recording 31 goals and 13 assists during his collegiate career. His contributions played a crucial role in the Cardinals' PAC-12 Championship victories in 2018 and 2020. The New Jersey native was named to All-PAC 12 First Team and earned All PAC-12 First Team honors in 2020.
Ryan joined the Red Bulls Academy from 2013 to 2017. In his final two years with the Academy, he scored 20 goals in 38 appearances, helping Red Bulls Academy teams win three Northeast Division Championships in 2013, 2014, and 2015. 
Player: Zach Ryan
Position: Forward
Birthdate: 1/14/1999
Age: 23
Birthplace: Chatham, New Jersey
Height: 6'1"
Status: Domestic