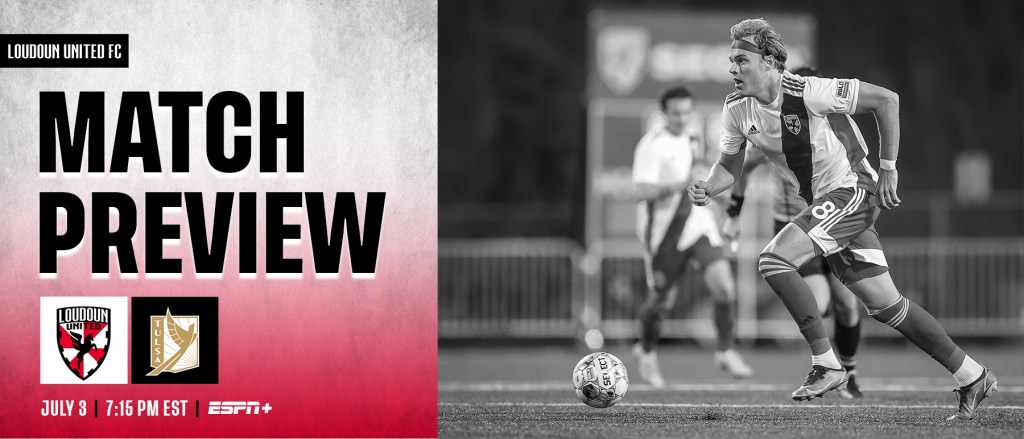 Loudoun United FC will play their seventeenth match of the 2022 United Soccer League (USL) Championship regular season against FC Tulsa on Sunday, July 3 at 7:30 PM EST. The two eastern conference opponents clash at Segra field for the first time in USL Championship history.
Loudoun United News
As June draws to a close, Loudoun United FC (LUFC) are 2-2-1 in the last five matches. The red-and-white are undefeated in their last three matches at Segra Field. Loudoun's last match was on Saturday, June 25 against Orange County SC. The reigning USL champions defeated LUFC 1-3. Skage Simonsen recorded his second goal of the 2022 USL Championship season. D.C. United Academy forward Abdellatif Aboukoura has recorded three goals and one assist in his last four matches with the club.
Loudoun United recently announced the addition of Mattar M'Boge as assistant coach. M'Boge has found success as a coach at various levels within the Gambian National Team. He is currently the head coach for the U-23 Men's Gambian National Team.
"We are excited to welcome Mattar to Loudoun United; he has tremendous experience and success coaching elite youth players with the Gambian National Team," said Head Coach Ryan Martin. "He brings all the personal values that I like to have in my staff. He is hardworking, loves the game, and always wants to learn and get better. He truly believes in the process-oriented approach to player development."
How can I Follow the Match?
Tickets to Sunday's match are available now at loudoununitedfc.com/singlegametickets. Sunday's match will also be available to stream on ESPN+.
About FC Tulsa
FC Tulsa is currently 5-10-3 in the 2022 USL Championship season. The Oklahoma-based team is 9th in the Eastern Conference standings with 18 points, leading Loudoun United by four points with two games in hand. Tulsa has yet to win a game away from ONEOK Field. This past Tuesday, FC Tulsa traveled to Toyota field and fell to San Antonio FC 1-2. J.J. Williams recorded a goal in the 36th minute of the match, however San Antonio scored two goals within two minutes of the second half for a comeback win.
J.J. Williams leads the team with eight goals from 18 appearances. FC Tulsa have recorded three clean sheets this season between goalkeeper Austin Wormell (2) and Sean Lewis (1).
FC Tulsa announced on the departure of Head Coach Michael Nsien. Assistant coach and former Jamaica international Donovan Ricketts has since been promoted as interim Head Coach.
Match Up History
This will be the first matchup between the two clubs in USL Championship.