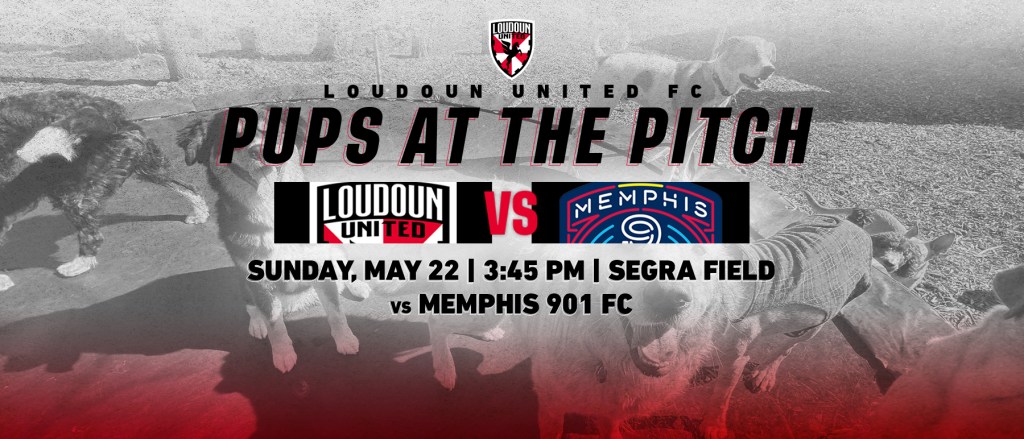 Registration form must be filled out prior to attending the match, if you're bringing a dog.
Loudoun United FC is excited to host our inaugural 'Pups at the Pitch' night at Segra Field on Sunday, May 22nd vs. Memphis 901 FC! Bring your dog and support the home team as we'll have plenty going on at Segra Field, including live music, concourse games, a dog-themed halftime performance and more!
Through this special link, take advantage of our advanced ticket prices and add on a one-of-a-kind Loudoun United dog bandana!
How it works:
– Complete the attached Pups at the Pitch registration and waiver, if bringing a dog
– Choose your seat location, quantity and if you'd like to add a dog bandana(s) to your order
– **If you are bringing a dog, please select seats in Section 101! All dogs (and owners) will be seated in Section 101, which will be treated as General Admission**
– Complete our easy purchase process
– Share your personal link with friends and family and invite them to join you. When they buy from your link, we will do our best to sit you together (subject to availability)
– If you added a bandana(s) to your order, please pick them up at the sales table inside the main gate
Pups at the Pitch Rules, Recommendations, and Information:
– One dog per adult. Children are not permitted to bring dogs without adult supervision
– Any participating dog must be at least six months old
– All owners must have a signed waiver to gain admission to Segra Field with their dog
– All owners with dogs must have a special ticket to gain admission to Segra Field
– Your dog MUST be UP TO DATE on Rabies, DHLPP, and Bordetella vaccinations to attend the game. I.D. tags and proof of vaccination are required to gain admission to Segra Field
– Segra Field reserves the right to refuse entry to any dog and reserves the right to eject any and all unruly, rowdy or disruptive dog or owner from the game and/or the Stadium
– You MUST enter through West Gate that is designated as the "Pups at the Pitch" gate and dogs are permitted in the "Dog Zone" sections ONLY that are clearly labeled with signage
– All dog owners must get a wristband upon entry for seating in the "Dog Zone" sections and exit/re-entry
– No Dogs will be permitted on the Field
– All dogs MUST be on a leash at all times. Retractable leases are not permitted.
– No dogs over 100lbs will be permitted
– Do not bring your dog if they are unreliable in crowds or with other dogs
– Do not bring a dog whose behavior could be dangerous to others or who has unreliable temperament
– Do not bring a female dog in heat
– Be courteous and responsible – you must pick up after your dog
**Segra Field will supply water bowls and a tented 'cool down' dog zone**
Ticket and Game Day Information:
All tickets will be delivered electronically following your purchase. You can access your tickets via Loudoun United FC Account Manager. All tickets are mobile tickets. You can find more information regarding Segra Field policies and procedures here.
For groups of 12+ people and any questions, please contact Brett Barbour at 202-938-2196 or bbarbour@loudoununitedfc.com.
For ADA accommodations, contact our sales team at info@loudoununitedfc.com.